Barra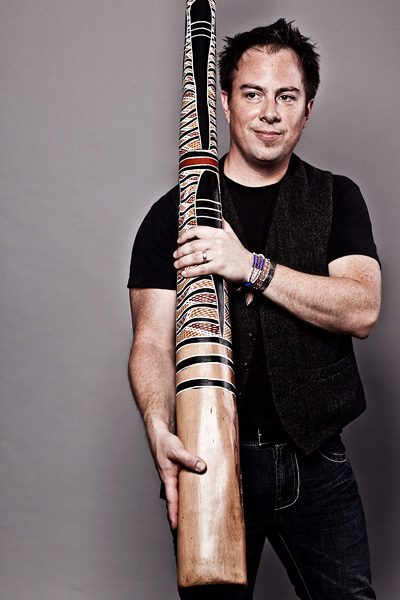 Biography
Barra, also known as Ron Crose, is a didjeridu player and percussionist hailing originally from the outback of Alaska. He was given the name Barra by his Australian Aboriginal friends (Yolgnu) while traveling the outback of Australia, in North Arnhemland.  For the Yolgnu, Barra signifies the west wind, which is the steady breath of the "wit didj" snake (the sacred creator, known by many as the rainbow serpent).
Playing with gratitude and intention for over 20 years, Barra's contemporary sounds encompass the listener in sensations of a forgotten time and another world. It is no wonder he has earned respect among the didjeridu and world music communities for his gift of playing, supporting, and love of sharing this sacred instrument.
Performing on radio, local and national television, yoga and music festivals, and teaching workshops or private classes, there is always a sense of mystery hovering around the frequencies of Barra's playing. According to Australian Aboriginals, the instrument dates back over 40,000 years, and has been played traditionally for ceremony for as long as they can remember, bridging the physical and spiritual worlds. With his modern and inventive style, Barra creates this bridge between old and new, and invites you to experience one of the world's oldest and most fascinating instruments–the didjerdu.
In his latest release, "Moving Mountains," Barra combines his unique and contemporary playing style with electronic artist Govinda's modern beat wizardry and virtuoso violin. The mid-tempo, global electronic sound draws from our ancestral roots, yet conveys a new and fresh approach to didjeridu, electronic and world music. This cinematic and empowering music features guests from all corners of the world. It is the most energetically charged of all of Barra's releases, and is sure to get your body moving from start to finish.
Discography
Codes of Ascension (2012 with Kai)
Moving Mountains (2012)
West Wind (2011)
Once Will Do (2011, with Fred Mitchim)
Released (2010, with Fred Mitchim)
Journeys (2010)
Passages (2009, with Fred Mitchim)
Contact for licensing or events
Ron Crose
www.barramusic.com / Click here to email
+1 512.350.1777
Austin, Texas  USA
. . . . . . . . . . . . . . . . . . . . . . . . . . . . . . . . . . . . . . . . . . . . . . . . . . . . . . . . . . . . . . . . . . . . . . . . . . . . . . . .
Workshops and Private Lessons
Classes, workshops, and private lessons are offered throughout the year and will be announced below. For Private lessons please contact me here or call 512-350-1777.
No scheduled workshops at this time
___________________________________________________
"Ron, I just wanted to thank you for welcoming me into your home for the didj lesson this past Saturday. I picked up a great deal and have been having a lot more fun with my "Joey Kakadu" didgeridoo. I particularly enjoyed your sharing the philosophy behind the ceremony/instrument too. Hearing it adds an entirely new dimension for me. Anyhow, I just wanted to say thanks again, Ron. (I think I need to get my didj fixed – it doesn't sound like the way you play!

))" 
- Best regards, Gary
___________________________________________________
"Hi Ron: Thanks for the great class today. I feel that I've learned a great deal, more than I thought I would. 

My criteria for a good instructor is a person who not only can pass on the technical knowledge based on experience but also who can inspire the student to want more and be actively engaged in the process. You are such an instructor." -Ed